Last weekend was the Climbing Works International Festival, the first big comp of the season and a good opportunity to see where you are up to in your training. It is also usually a pretty good comp for me, having had god knows how many 2nd places and finally winning last year.
My build up hadn't been ideal so i was going in a bit unsure having only started my training cycle in January, having had quite a long break from being massively over trained from last season (and probably the previous 3 seasons too!) My left shoulder was also not 100% due to a chronic knot at the base of my neck, causing all sorts of issues. Finally i split a tip the weekend before so didn't get to climb very much the week before, leaving me feeling very "wooden" in the qualifiers making some very basic errors on some really easy moves. In the end i qualified in 12th for Sundays semis, with some very sore feeling skin.
After much application of skin repair balm the night before it felt surprisingly ok warming up as did my movement and muscles. The semi problems suited me well being on volumes and slopers/pinches and i topped all 4 in 9 attempts and the only one to do all 4 putting me in 1st place for the finals, i still felt fairly fresh which felt good as i wasn't sure of my fitness coming into the event.
Viewing the final problems i thought they all looked well within my capabilities although we weren't quite sure how to do the finish of the first slab!
Being last out i knew all the taller boys had reached the last hold off the foothold and that Jacob hadn't been able to reach it, so i would have to pull something special out the bag or my final would be effectively over! Feeling extremely angry at the route setters (not the best mental state for slab climbing) i pulled on knowing I had to stand on the 1mm edge left at the top of a volume and push up hard into the bottom of the finishing hold. I slipped on my first go not quite on the best bit trying to match the finish. slipped again mantling up then somehow at full stretched managed to match, i hope someone got a picture! Sorry boys but that was a really bad problem, good if everyone had to stand on the edge as set.
Still fuming i flashed problem 2 knowing only Jacob had topped it putting me in 1st place.
Flashing problem 2
The third problem i thought looked like my thing the only move i was concerned about being the move to the bonus slot! It turns out that the 2nd move was just too big and i couldn't drop in from my iron cross position!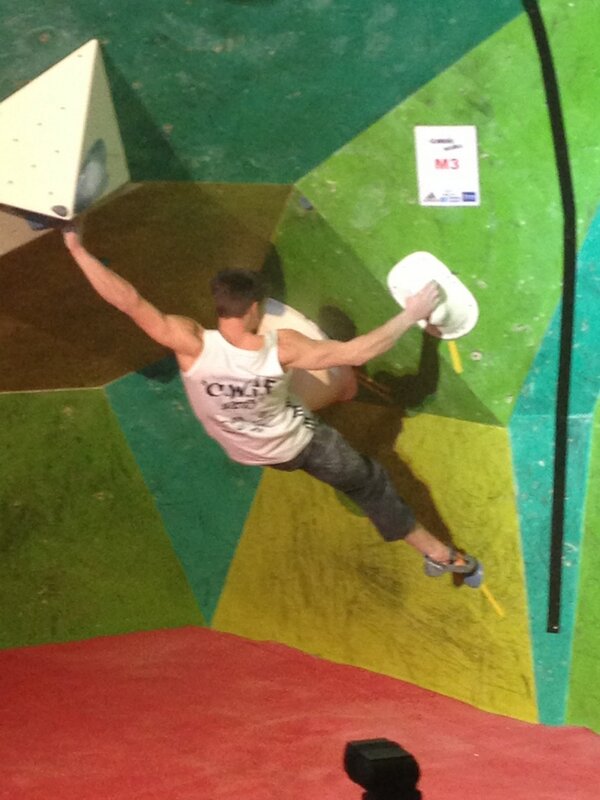 Bit stretched! thanks to Mark Bullock for the photo
Jacob had done it quickly too. Leaving us joint on tops but not on bonuses going into the last problem so i needed Jacob to fall off a few times, which he didn't being world champion. I did the last problem 2nd go after just missing a hidden hold on a volume to secure another CWIF 2nd place.
The final problem
Not bad and i have a few things to work on before my first world cup of 2013 in April.
Thanks to the climbing Works for putting on another great event.
Anyone else got any pics?